Antoine Lhoyer in Clermont-Ferrand… and in Russia
Born in 1768 in Clermont-Ferrand (France), died in 1852 in Paris, Antoine Lhoyer was one of the most eminent composers of the 19th century for guitar, an instrument that he furthermore played with talent. There are doubtless several reasons for the unjust neglect into which the works of this artist have fallen: first and foremost one can imagine the high degree of virtuosity most of Lhoyer's compositions demand of their performers being a considerable hindrance to the propagation of his music, as much during his lifetime as after. Secondly, we must remember that the guitar was an instrument played largely by dilettantes and that its popularity was moreover on the wane throughout the 19th century, definitively superseded in salon concerts by the piano. We must also take into account the not inconsiderable fact that Antoine Lhoyer was never a professional guitarist, rather he adopted a military career, and sought to combine these two activities as best he could throughout a chaotic and eventful life, from Versailles to St. Petersburg, not forgetting the battlefields of the counterrevolution, his successive professional postings - to the island of Oléron, Aix-en-Provence, Niort, and Bonifacio, or various wanderings that took him as far as the suburbs of Algiers. Finally, let us not forget that he lived thorough particularly troubled times, including not less than three successive revolutions in France, and during which more than one life was thrown into turmoil.
Just like George Onslow, albeit much later, Antoine Lhoyer is finally beginning to attract public attention. Until 1994, when an erudite police officer, Mr Faure, drew the attention of the classical music programme director of Radio France Puy-de-Dôme, Baudime Jam, to this oversight, no one in France had shown the slightest interest in the obscure composer Antoine Lhoyer, whose life is still today shrouded in mystery and whose music remains little known. In the whole world a mere handful of particularly dedicated specialists had hitherto undertaken to make known the name and work of Antoine Lhoyer: 30 years before the current renaissance of Antoine Lhoyer in Clermont-Ferrand, the famous Rumanian guitarist and musicologist Abel Nagytothy-Toth pioneered this rediscovery by publishing in Madrid in 1964 a first modern edition of the Guitar Concerto Opus 16, of which he possessed an original copy 1. Much later, the American Matanya Ophee published in 1990 an article devoted entirely to Antoine Lhoyer and based on original research, notably in the military archives of Vincennes castle 2. Four years after that again, the Norwegian guitarist Erik Stentadvold wrote programme notes for a recording he made with Martin Haug of a series of duos by Antoine Lhoyer, using the same above-mentioned sources but without adding anything new. 3
The archives collated by Mr Faure, once again taken from the same sources as Matanya Ophee, found their first response in Clermont-Ferrand when confided to Baudime Jam: after having studied and organised the disparate, often incomplete documents, and conducted his own research, Baudime Jam wrote and produced a series of 15 radio programmes that were broadcast in 1995 on the local station of Radio France – musical examples being taken from the CD with Erik Stentadvold and Martin Haug, unavailable at that time in France. This was the first appearance of Antoine Lhoyer in the cultural landscape of Clermont-Ferrand. Subsequently Baudime Jam dedicated further programmes to Antoine Lhoyer. These began in 1997 as part of a series of 'Figures libres' that he broadcast from Paris on Radio France Musique in August of that year, then in 1999 on the channel RCF 63 in Clermont-Ferrand in his radio magazine 'Mélodia'.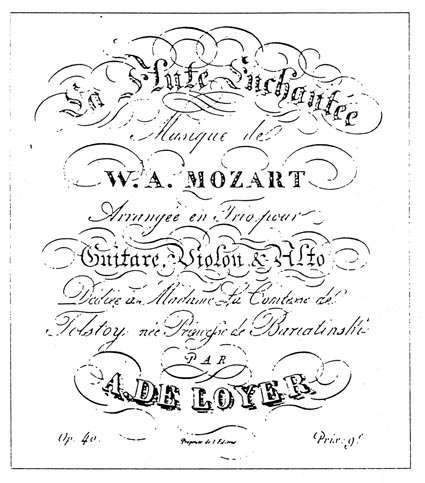 Eager to air Lhoyer's music and to contribute substantially to his rediscovery, Baudime Jam decided to organise a concert dedicated entirely to his compositions. This took place on the 17 May 1998, in the George Guillot auditorium of Clermont-Ferrand with a programme designed to illustrate the diversity and richness of Antoine Lhoyer's oeuvre. Thus music lovers who had gathered together on that occasion could hear premieres of the Grand Trio Opus 41 for guitar, flute and viola, four Romances for soprano and guitar (taken from Opus 15 and 24), the Divertimento Opus 43 for guitar, the Grand Duo Concertant Opus 28 for guitar and violin, and the Trio Opus 29 for three guitars. To accompany this concert, the 'Centre de Recherche Révolutionnaire et Romantique' of Blaise Pascal University published an article by Jean-Louis Jam entitled 'The parallel lives of Antoine (de) Lhoyer' and which remains today still the only musicological treatise in French on the subject. Considering that this double event marked the musical renaissance of Antoine Lhoyer in Clermont-Ferrand, it is unfortunate that it was totally ignored by the local press. The next year, on the 20 May 1999, Baudime Jam organised a second concert of Lhoyer's music, in which he himself took part alongside Elzbieta Gladys (1st violin of the Prima Vista Quartet) and the guitarist Axel Bernolin. Among other works, they interpreted together 'The Magic Flute' in a transcription by Lhoyer for violin, viola and guitar (Opus 40).
On several subsequent occasions Baudime Jam was invited to give lectures on Antoine Lhoyer, most notably in Clermont-Ferrand, birthplace of the composer, as part of the cultural season of the BMIU (Interuniversity Municipal Library), initially in May 1999 then in March 2003. He has also organised several concerts centred on the works of Antoine Lhoyer, in which he has occasionally himself taken part. In the meantime Erik Stentadvold came to give a recital in Clermont-Ferrand on the 26 March 1998, and he has also written both an article that appeared in 1997 in the Italian magazine il Fronimo 4, and a monograph published in the United States by Editions Orphée in 2002. 5
Lastly, the Prima Vista Quartet got to meet the music of Antoine Lhoyer when, thanks to the good offices of the musicologist Claude Chauvel, Baudime Jam was able to obtain Abel Nagytothy-Toth's 1964 edition of the Concerto Opus 16. The premiere, in its original version for guitar and string quartet 6, took place in Clermont-Ferrand on the 20 March 2003, with the Argentine guitarist Miguel Garau as soloist, - an event yet again quite simply ignored by the local media. During the following summer, the Prima Vista Quartet and Miguel Garau performed this same composition no less than four more times, thus making part of their repertoire a rare work possessing the distinctive characteristic of being at the same time chamber music and concertante in style. A further rendition took place on the 28 November 2005, as part of their Clermont-Ferrand season, but once again, alas, to the complete indifference of the local press. No one is a prophet in his own land, and thus despite the above-detailed efforts (concerts, lectures, radio broadcasts, and publications), Antoine Lhoyer and his œuvre remain stubbornly ignored in the town of his birth. Thus only somewhere else, far from his roots, could we hope that this work of rehabilitation might at last be recognised.
The Prima Vista Quartet and Miguel Garau in Russia ...
in the footsteps of Antoine Lhoyer : 2006 and 2012.
And so it came to pass, for in April 2006 Lhoyer has had top billing in four concerts that the Prima Vista Quartet and Miguel Garau have been invited to give in Russia, following in the footsteps of the Clermont-Ferrand composer. The musicians have performed in four towns along the Volga river : the 17 April in the theatre 'Dom Aktiora' in Samara, the 18 April in the Philharmonic Hall in Tolyatti, the 19 April in the Regional Library of Ulyanovsk, and the 21 April in the Philharmonic Hall of Nizhniy Novgorod, Russia's third largest city. The ten years that Lhoyer spent in the service of the imperial court of St. Petersburg were the happiest of his life: from 1803 to 1812 the tsarina awarded him a comfortable stipend of 5500 roubles and several of his compositions (Opus numbers 18b to 26) were edited by St. Petersburg publishers. One can only imagine how delighted Antoine Lhoyer would be to know that his music will sound once again on Russian soil.
Apart from the Variations on a Russian Theme for guitar, the Grand Duo Concertant Opus 28 and the Concerto Opus 16, the programme for these concerts included Miguel Garau and two members of the Prima Vista Quartet in a world premiere of the Trio Opus 38 for guitar, violin and viola, the only known extant copy of which is to be found in the Washington Library of Congress (reference number M 177.T8 n°5). Taking advantage of his presence in the American capital, where the Prima Vista Quartet gave a concert the 30 September 2005, Baudime Jam was able to study this score, and reconstitute the unfortunately missing viola part by means of the surviving violin and guitar parts. On the request of Karen Moses, reference librarian at the Library of Congress' music division, the missing viola part was added to the existing parts sot that the Trio Opus 38 by Antoine Lhoyer is now complete. This Trio is soon to be published by the 'Éditions du Mélophile' and the restored version will be preserved at the Library of Congress.
To mark the occasion, two of these concerts were accompanied by a lecture on Antoine Lhoyer's turbulent life and chequered career, on the 17 April at the University of Samara and the 22 April at the Conservatoire of Nizhniy Novgorod, with the help of talented interpreters, Elena Roganova (Samara), then Julia Tkatchenko and Irina Pavlova (Nizhniy Novgorod).
During their concert tour the Prima Vista Quartet has been also performing a string quartet by George Onslow (1784-1853), who will thus for the first time be on the same concert programme as his compatriot from Clermont-Ferrand. Indeed, Onslow's music, like that of Lhoyer, was also well known in 19th century Russia, as the following letter addressed to him in 1842 by Auguste de Sauves, then residing in Odessa, testifies: 'Four times a week I hear quartets, at different houses, and I hear always your music there, for which I feel the dual interest of both artist and friend. I can even report a most singular development, that the postmaster here two years ago, an amateur cellist and great admirer of your music, on being appointed to Tobolsk (where quartets are played) has succeeded in getting your compositions performed there. I don't know if it is your harmonious sounds that are attracting the sables or melting the snows, but whatever the reason we are having a very mild winter; what I can say with certainty however, is that I am delighted by the thought that your genius has reached deepest Siberia, and has been able to give to its poor frostbitten inhabitants moments of warmth and joy that their usual thermometer does not allow them.' 7 The Prima Vista Quartet, loyal as ever to their mission as musical ambassadors of their region (Auvergne) and champions of their cultural heritage, after having recently performed Onslow in London, New York and Washington, then in Poland, has now revived the memory of this Clermont-Ferrand composer in four Russian cities.
The Concerto Opus 16 by Lhoyer has been heard again in France, at the Festival 'Labeaume en Musique' on the 29 and 30 April, where Miguel Garau and the Prima Vista Quartet have been invited to give two concerts on their return from Russia. They have performed this work again last summer for another series of four concerts during the fifth edition of the "Soirées Onslow" - a festival devoted to George Onslow and his contemporaries which takes place in various castles of Auvergne.
Then, Miguel Garau and the Prima Vista Quartet have been invited, in 2012 (October 29), to perform again the Concerto during a concert at the Smolny cathedral of Saint-Petersbourg, along with the Air russe varié and the String quartet Opus 10 n°2 by George Onslow. It was the first time that the music of Antoine Lhoyer was performed in Saint-Petersbourg since the time he lived there and his Concerto was published by Charles Lissner.
Miguel Garau et le Quatuor Prima Vista à Saint-Pétersbourg (29 octobre 2012)
The concerts tour posters (French and Russian versions) :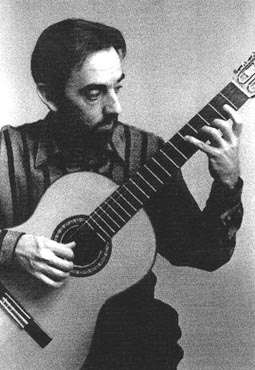 Miguel Garau studied first at the age of 9 with Juan Leguizamon and Mabel Pico, and, after having been merged into popular music, he was admitted at the National Conservatory "Juan José Castro" of Buenos Aires where he graduated in 1983.
In 1978, while still a student, he founded a guitar duet with Fernando Millet. The talented young musicians transported the famous teacher Jorge Martinez-Zarate who became their mentor. Together, they won a nomber of international prizes : Chamber Music Contest of Buenos Aires, Promociones Musicales, International Festival of Young Soloists in Bordeaux, etc.
Miguel Garau gave recitals in renown venues such as the Royal Festival Hall (London), the Theater Diligentia (La Haye), the Philharmony of Kiev, the Olympia (Paris), the Cemar Recit Hall (Istanbul), the Grand Théâtre of Bordeaux, etc. - and his international career brought him in various towns in the world : Édimbourg, Istanbul, Liège, La Havane, Alicante, Berlin, Stuttgart, Canaries, Volos, Cordoue, Aschaffenburg, Paris, Skopje, Carthagène, while taking part oftently to radio and TV broadcasts : BBC, Spanish RTV, Radio France, Turkish TV, etc.
He also played as a soloist with the Istambul Symphonic Orchestra, the English Chamber Orchestra, and the Cordoue Symphonic Orchestra (under the direction of Léo Brouwer), and he was associated with many renown artists : Véronique Nash (piano), Chantal Bon-Saintcome (soprano), Hilda Herrera (piano and composition).
Since a few years, he has been regularly associated with the Prima Vista Quartet, performing a wide repertoire ranging from Boccherini to Castelnuovo Tedesco - from classics to tango.
Tel : 00 33 663 84 70 58
email : primavista@free.fr
We speak English.
***


1. Ediciones Musicales Madrid. Depósito Legal M. 3.531-1964.
2. "Antoine de L'Hoyer : A Detective Story & Check List of his Works", in Soundboard - vol.17 #3, pp.33-37.
CD SIMAX - PSC 1119. A second CD was released in 1999, still by SIMAX (réf. PSC1189).
4. "Antoine de Lhoyer : riscoperta di un chitarrista-compositore trascurato", il Fronimo, #100, 1997.
EICM-37, ISBN 1-882612-24-8.
Recently this Concerto was performed, and even recorded, with the accompaniment of a string orchestra, which constitutes on the one hand a betrayal of the composer's wishes, and on the other an aesthetic error for several reasons: respect for the original instrumentation is justified by the usual practice of Antoine Lhoyer's time, where the denomination 'chamber concerto' leaves no doubt that this piece was never meant to be performed other than in a salon; moreover the balance and dynamic variation are considerably enhanced by a string quartet, whereas with orchestra the solo guitar must be amplified…; lastly, the style of writing for cello has little in common with that customarily employed for an orchestral bass line: it is conceived far more as a veritable quartet part, as is also the writing for the 2 violins and viola. Furthermore, a salient feature of Antoine Lhoyer's œuvre is precisely its chamber music instrumentation, which allows the guitar to be associated with other instruments (violin, viola, flute, etc.). Replacing a string quartet by a whole orchestra thus not only deprives us of a real pleasure, but also constitutes a misinterpretation. In any case it was perfectly normal, in the period when Antoine Lhoyer lived, to execute concertos with this instrumentation. After all, a mere few years previously, Mozart himself had transcribed several of his piano concertos (K238, K414, K415) for 'the accompaniment of 2 violins, viola and bass' ... In another respect this same recording contains a further disloyalty to the original: the addition of a central second movement. Matanya Ophee, who is in possession of the only known copy of the original score, is quite categorical on the subject: 'That performance, by Mr. ***, and the edition of the concerto he published, make a grave distortion of the original, by adding a middle slow movement, as the original is only two movements. The assumption that a concerto, necessarily, needs three movements in a fast-slow-fast format. To think so is to display a gross ignorance of the Italian traditions of the 18th century, where there are many concertos with only two movements.' (authorised quotation from an e-mail of 29 December 2004). In this regard, Matanya Ophee's version, published by Editions Orphée, as well as that brought out by the Éditions du Mélophile are the only ones that truly respect the original text, and it is the latter version that the Prima Vista Quartet uses for its performances.
"George Onslow", by Baudime Jam, p.393 (Éditions du Mélophile, 2003, ISBN : 2-9520076-0-8 / EAN : 9-782952-007603).
3 front pages of works composed by Antoine Lhoyer when he lived in Russia :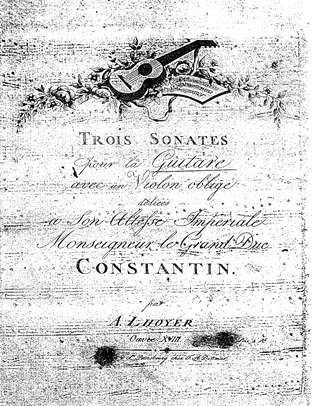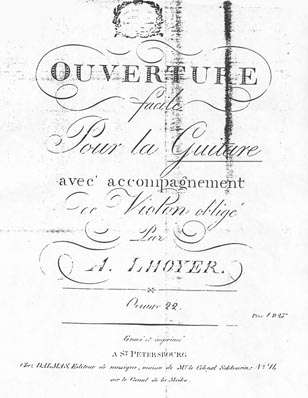 © 2006 - Tous droits réservés.
Translated by Michael Swedlund